Colton Hveem
The EU remains widely popular across the bloc according to a new poll issued by the European Parliament. However, skepticism continues to fester, and leadership has not shied away from criticizing the European Union when believed to be necessary. Perhaps the greatest adversary to EU political norms is Italy's Salvini. It thus comes as little surprise that Italy is the most Eurosceptic country in the Union, as a new poll shows that only 44% of Italians would vote to stay in the EU.
"According to a poll of nearly 28,000 Europeans commissioned by the European Parliament, just 44 percent of Italians surveyed said they would vote to stay in the EU, the lowest percentage of all 28 member states," The Local reports.

Overall, Italians still are more likely to suggest that a collective membership with other European nations is positive, as 42% saying Italy's membership in the EU is a good thing while only 18% say it is a bad thing.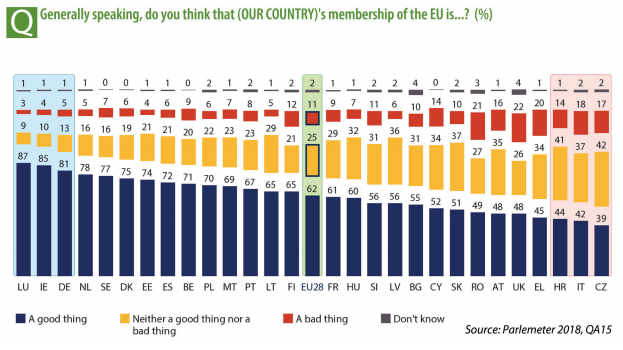 However, it is difficult to know how this question would fare paired up against a question that offered an alternative European membership that is more in line with Italy's current political regime. This hypothetical scenario becomes even more intriguing whenever it includes the Italian perspective on whether or not the EU membership has benefited Italy.
"When it came to the benefits of belonging to the EU, only 43 percent of people in Italy – the lowest percentage overall – said that their country had benefited from being a member, compared to 45 percent who said it had not," The Local reports.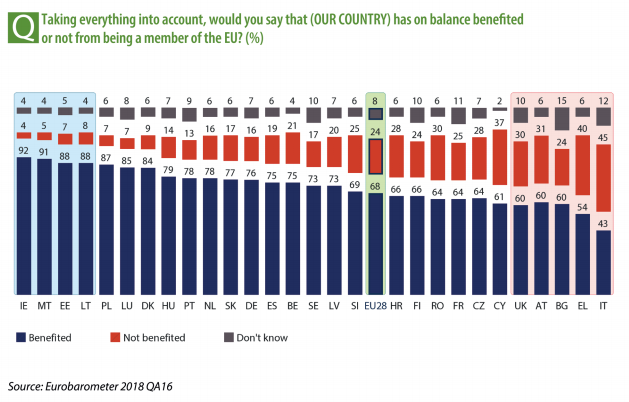 The Local goes on to acknowledge, "Italians also felt more disenfranchised than other countries, with 66 percent saying they felt their country's voice didn't count in the EU."
As Italy continues to pursue a divergent political path from the greater EU trajectory, Italians may only express greater discontent when it comes to their current state in the European Union.